We have several free and premium events throughout the year for enjoyment and fundraising. Check back frequently for updated event details and meet us at the Powerhouse!
Stay tuned we are planning something exciting!
@ Del Mar Powerhouse Community Center
FREE EVENT //// Please RSVP with your child's age
Free Flight, a unique exotic bird sanctuary in Del Mar, is bringing 6 different types of parrots to the Powerhouse for a meet and greet with children! Learn about their care, feeding, behavior, conservation efforts, and more. Also, enjoy read-alouds by the Del Mar Library and we'll top off the event with a craft!
Friends of the Powerhouse invite you to join us at the Tot Lot.
Dance

to Hullabaloo

Giggle

with I Bubble

Create

a Craft

Face

Paint

ing
Enjoy Beer Garden by Viewpoint Brewery  & Pizza from Del Mar Pizza
Thank you for your support!
Penguin Plunge Beach Towel Fundraiser
Pre-order your limited edition Penguin Plunge towel now!
Order by December 31st, 2022
After a two-year hiatus (due to COVID-19), the City of Del Mar's beloved Penguin Plunge is back on January 1, 2023. Friends of the Powerhouse are selling commemorative, full-size beach towels to raise funds to support their mission & current projects, which include renovating the Tot Lot at Powerhouse Park.
$25 per towel
Bring your receipt & pick up your towel between 10:30-11:30am on January 1st at 1700 Coast Blvd., Del Mar Beach (Friends of the Powerhouse Tent).
Thank you for your support!
Movie Night Under The Stars
Minions: The Rise of Gru 
Private event on Monarch's outdoor rooftop deck
November 5, 2022, 5:30pm
Monarch Ocean Pub
We are beyond thankful and humbled for the support of our Carmel Valley and Del Mar communities.
Thank you
Monarch Ocean Pub
for your generosity in hosting our Movie Night Under the Stars fundraiser. Kids enjoyed watching Minions: The Rise of Gru while munching on popcorn. Parents enjoy mingling, raffle, and drinks!
Big Thank You to all the local raffle prize vendors for your support:
RMD Group; Monarch Ocean Pub; Coastal Medical Aesthetic; Il Fornaio; CeramiCafe; I She Beauty & Health; Cinepolis; Geppetto's; Pacifica Del Mar; Jimbo's; Marufuku Ramen; & Slane Whiskey.
This fundraiser will help Friends of the Powerhouse's long-awaited renovation of the Tot Lot located within the scenic Powerhouse Community Park so that our youngest generation can enjoy the park for many years to come.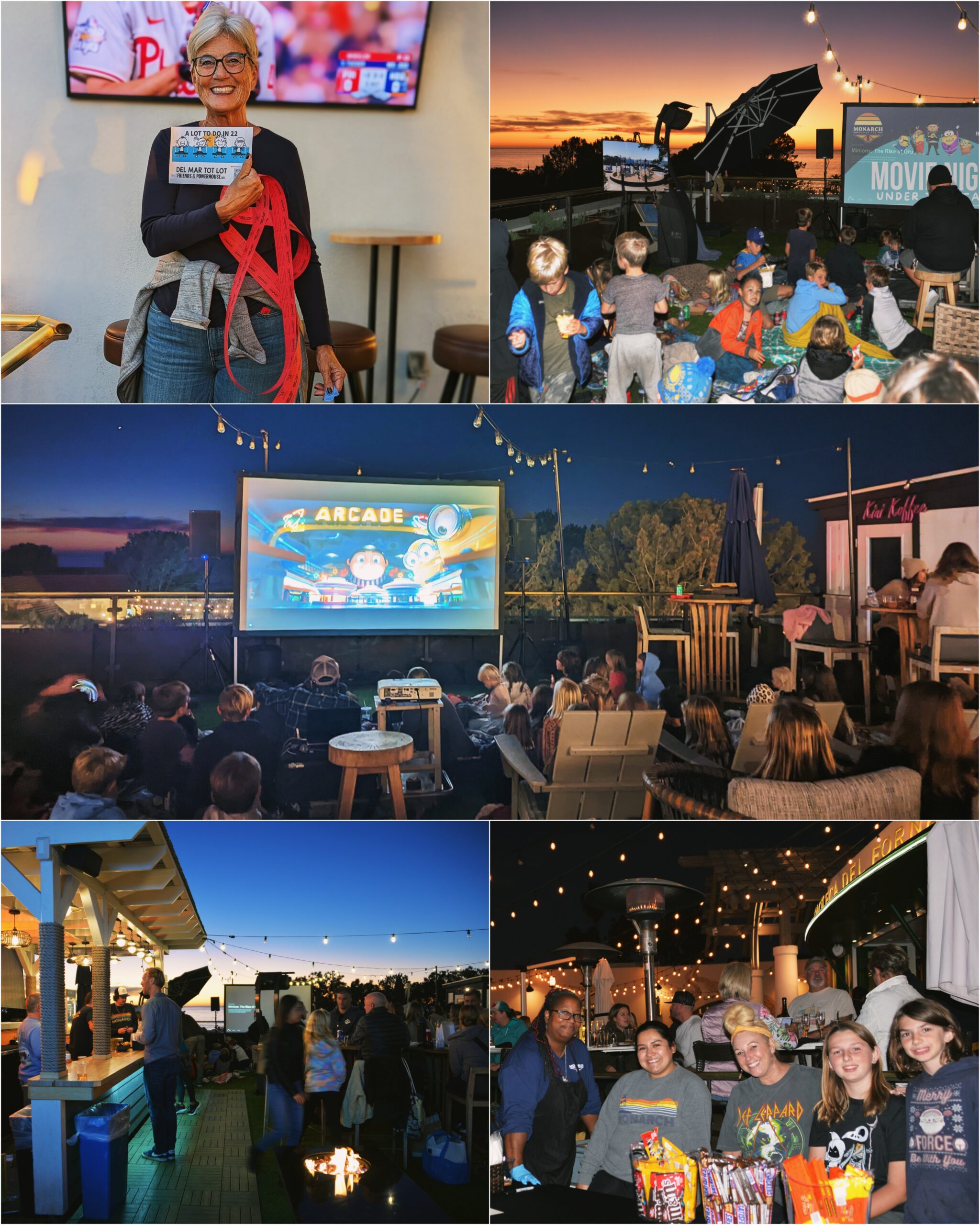 Join Friends of the Powerhouse for a family-friendly fundraiser!
When: July 19th, 3-5:30pm
Where: Sea Grove Park, 15th St & Coast Blvd, Del Mar, CA 92014
This event takes place right before the Summer Twilight Concert Series, so come dance to Hullabaloo and paint a ceramic tile with CeramiCafe for a donation of $100 while you wait for the show to start. Your commemorative tile will be glazed and displayed at the new playground.
All proceeds go towards new playground equipment at the Del Mar Tot Lot in the Powerhouse Park.

A Family Day! Help Us Fund Our New Del Mar Playground
Community members gathered on March 12th during our Party in the Park event and enjoyed a variety of entertainment while raising funds for our new playground!
Activities included:
Dance to Hullabaloo
Storytelling with Sandcastle Tales
Personalized Ceramic Tiles
Arts and Crafts
Raffle Prizes
Beer Garden by Viewpoint Brewery
Pizza from Del Mar Pizza
Thank you to everyone who came out to enjoy the day with us and support our next project!
Join our mission. Volunteer, donate, advocate. Get started today.