November 18, 2015; For Immediate Release
Contact Maile D'Arcy, Board President, Friends of the Powerhouse
858.755.5220; info@friendsofthepowerhouse.org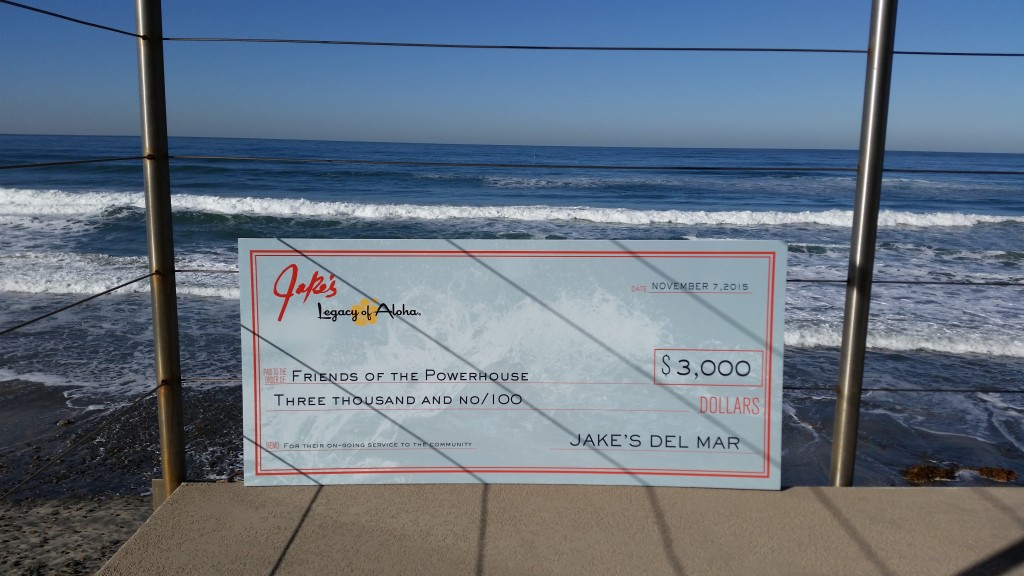 Del Mar, CA … The Friends of the Powerhouse nonprofit organization is delighted to accept a generous $3,000 donation from famed Jake's Del Mar restaurant in support of its multifaceted efforts to preserve iconic local structures, create and renovate facilities, and ensure that the Del Mar beach and park areas can be accessed and enjoyed by all.
The donation emanates from proceeds of Jake's Del Mar's 33rd Annual Beach Fun Run, a 5K event held on November 7, 2015. The Friends of the Powerhouse is a long-standing beneficiary of Jake's Legacy of Aloha program, which organizers say is "committed to helping ensure that the next generation respects and cares for our beaches and ocean, as well as one another."
In addition to being an ongoing financial supporter of Friends of the Powerhouse, Jake's hosts the group's monthly meetings at its restaurant located at 1660 Coast Boulevard, Del Mar, 92014.
Pat Vergne, the City of Del Mar's Community Services Director and Chief Lifeguard, accepted the check on behalf of the Friends. He explains, "The FOP supports an array of Lifeguard programs and services. We all share common goals; striving to enhance Del Mar's exceptional quality of life. Having a friend like Jake's enables the Friends of the Powerhouse to promote preservation, restoration and recreation in the town we all love."
The Friends of the Powerhouse (FOP) www.friendsofthepowerhouse.org is a 501(c)(3) organization formed in 2001 by dedicated Del Mar residents sharing a passion for their community. The FOP's inception dates back to the 1980s with efforts to support the City's construction of Powerhouse Park and Community Center. With a mission to preserve historical and architecturally significant properties, promote social welfare, educate the public and protect the community and its landmarks in the Del Mar beach area, the FOP also supports the City's Lifeguard Service. It raises money through events, naming opportunities and general donations.