In addition to protecting the public, the City of Del Mar's Lifeguard Services offers an array of engaging and enriching community outreach programs. The nonprofit Friends of the Powerhouse (FOP) is pleased to support these Lifeguard programs as part of its commitment to ongoing beach community preservation and enhancement. Here is a look at annual and ongoing Lifeguard activities. For more information about these and other FOP-related programs and services, visit the website or info@friendsofthepowerhouse.org.
Events
Penguin Plunge
New Year's Day, 11 am
17th Street Beach Safety Center
Join hundreds of your friends and neighbors as you ring in the New Year with a refreshing dip in the Pacific. Enjoy a post-plunge breakfast of coffee, juice and doughnuts. The Penguin Plunge is free and open to the public.
Annual Lifeguard Dance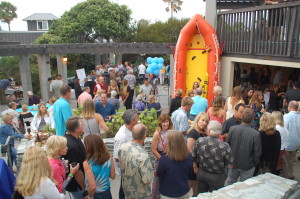 Last Saturday in June
It's a great party for a great cause; a festive fundraiser offering food, cocktails and dancing to a live band. The FOP presents the Lifeguard Dance to welcome in the summer, give people an opportunity to meet and mingle with Del Mar's finest, and support the organization that supports the Del Mar community.
Activities
Wounded Warriors Surf Program
Thursdays, 9 am
17th Street Beach Safety Center
The Del Mar Lifeguard Service hosts a weekly program for the Naval Medical Center Health and Wellness Department's Wounded, Ill and Injured Wellness Division. Since its inception in 2008, the program has enabled more than 3,000 service members help in recovering from their often severe physical and emotional injuries through the joy of surfing.
Adaptive Sports Children's Beach Day
17th Street Beach Safety Center
Four times each year, Del Mar Lifeguards make life a beach for children with special needs, hosting a fun day of activities, including a picnic lunch. The program is provided via the Adaptive Sports and Recreation Association, whose mission is to improve the quality of life for children and adults with physical disabilities through sports and recreation.
New Zealand Lifeguard Exchange
Putting the intention of "Think Globally, Act Locally" into action, the Del Mar Lifeguards and New Zealand Guards participate in a mutual learning experience twice a year. During our Southern California summer, Del Mar Lifeguards welcome Guard exchange students here to share in training experiences, team-building and equipment instruction. During our winter and their summer, Del Mar Lifeguards visit New Zealand to learn from their counterparts down under.